In a world burdened by environmental challenges, Vishakha Vidhani, our climate champion for this episode, has embarked on a remarkable journey to create a sustainable lifestyle. Inspired by her childhood amidst the pristine Himalayas and dismayed by the pollution she witnessed in Bombay, Vishakha founded Avyannaa—an e-commerce website promoting a trendy and eco-friendly way of life.
Avyannaa believes that a greener planet leads to happier surroundings. With a commitment to sustainability, Avyannaa offers a range of products made from natural elements such as bamboo, cork, and coconut. The company's circular approach ensures that products can be reused, recycled, or repurposed, minimizing waste production and promoting a zero-waste lifestyle.
At Avyannaa, the emphasis is not only on being environmentally friendly but also on the emotional well-being of customers. By choosing Avyannaa's products, individuals can make small changes in their daily routines that contribute to significant differences for the planet. The company strives to provide sustainable and chemical-free alternatives, offering trendy options that align with a conscious consumer's values.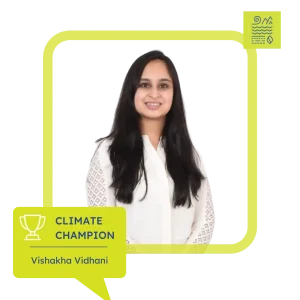 Avyannaa's diverse product range includes innovative and eco-friendly alternatives to everyday items. Avyannaa enables customers to embrace a more sustainable way of living, from a bamboo toothbrush to a cork laptop sleeve. These products are ethically made and climate positive, ensuring a positive impact on the environment.
The company's vision extends beyond product offerings; Avyannaa aims to build a community of like-minded individuals who care for the planet and prioritize using earth-friendly products. Through educational podcasts and workshops, Avyannaa strives to raise awareness about sustainability, eco-friendly practices, and the need to be more mindful of our planet's future. Avyannaa encourages others to join in their mission of creating a sustainable and compassionate world by sharing knowledge and fostering dialogue.
Avyannaa has already achieved significant milestones in its pursuit of a greener future. On World Environment Day, they collaborated with World Refill Day, launching a campaign to provide life-giving water to those in need. Avyannaa quenched the thirst of dedicated delivery champions, vigilant security guards, hardworking courier heroes, and everyday individuals through refill counters. This impactful initiative aimed to acknowledge and support those who work tirelessly in challenging conditions while also fostering gratitude and compassion within the community.
Celebrating their first anniversary, Avyannaa launched a brand new podcast. Through this educational platform, they shared insights on sustainability, eco-friendly products, and the importance of embracing a minimalist lifestyle. By highlighting the urgency of prioritizing the planet, Avyannaa aims to inspire individuals to make informed choices that benefit themselves and the environment.
Looking ahead, Avyannaa plans to continue expanding its reach and impact. Through additional workshops and activities, the company aims to educate and engage more people in the cause of sustainability. Avyannaa also plans to introduce innovative products at reasonable prices, ensuring everyone can switch to a sustainable lifestyle.
As the story of Avyannaa unfolds, it serves as a reminder that each small step toward sustainability can lead to profound change. A sustainable future becomes more tangible through Vishakha's vision and the dedication of the Avyannaa community. Together, they embark on a journey towards a greener, more compassionate world where mindful choices and eco-friendly alternatives pave the way for a better tomorrow. To shop sustainable products from Avyannaa, visit https://avyannaa.in